If you are unable to view the email below, please go here.
August 2013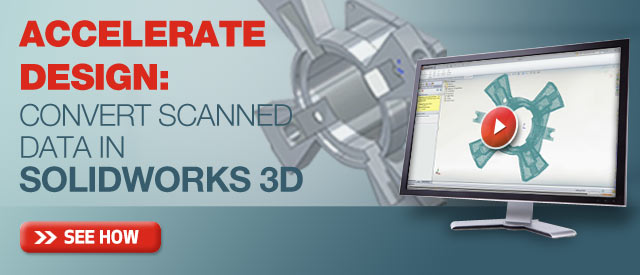 Are You Ready for
SolidWorks 2014?
Get a sneak peek into new features in SolidWorks® 2014 before they launch on September 9th to see how we have updated your SolidWorks experience.

Upcoming 22-MINUTE WEBINARS
Best Practices for Injection–
Mold Design
In just 22 minutes, learn the best practices for designing injection–molded plastic parts to improve part quality, minimize manufacturing defects, and decrease time–to–market.
When:

August 27, 2013

Register: 11:00 AM ET
Register: 2:00 PM ET
5 Winning Principles for Better Design
Learn 5 key strategies to getting your products to market faster, with fewer errors and design changes, and on budget.
When:

September 24, 2013

Register: 11:00 AM ET
Register: 2:00 PM ET

Machine Design Meets Mechatronics
From SolidWorks World with
John Wenzler
Explore the power of the Motion Analyzer and SolidWorks to get insight into your machine design.

SolidWorks Tip: Part Review
Discover how to eliminate rollback and save time with Part Reviewer in SolidWorks to step through your part a feature at a time.

NEW on Born to Design
Watchmaking
Taking an old world craft, Frank Muller uses SolidWorks to create precise, traditional and innovative designs.
Howe & Howe Technologies
Howe & Howe built the Ripsaw, the world's fastest robotic tank, by leveraging SolidWorks technology.

| | | |
| --- | --- | --- |
| | | Being able to scan real products and easily convert them to 3D CAD models is a breeze with SolidWorks Premium's ScanTo3D feature. One of many tools to help you go from art to part, and even assembly, in minutes. |

From napkin–sketch concepts to fully relational and functional assembly, SolidWorks has got you covered. See how SolidWorks SWIFT technology and Sketch Relations speed assembly design and simplify complex model creation.

SolidWorks 2014 is coming soon! Get your sneak peek here.
Sincerely,
Amy Green
Partner Spotlight:
QuickFlix: IRAI


Increase your productivity with Virtual Universe Pro from IRAI, which enables the creation and simulation of virtual machines in
3D environments.



Dassault Systèmes SolidWorks Corporation


175 Wyman Street
Waltham, MA 02451 USA
Email:generalinfo@solidworks.com

This is a commercial email to promote the products and services of Dassault Systèmes SolidWorks Corporation. See our privacy policy for complete details.

To change the types of communications you receive, or to discontinue receiving email from Dassault Systèmes SolidWorks Corporation, please use this link: www.solidworks.com/preferences.

©2013 Dassault Systèmes SolidWorks Corporation. All rights reserved.